Irritating problem:
I try to open a .mp3 file in XYplorer (17.90) with Aimp or Winamp. Windows 10 64-bit responds:
"This action can not be completed because the other application is busy. Choose 'Switch to' to activate the busy application and correct the problem".
Like this (but without WebXcvr and with the text XYplorer instead: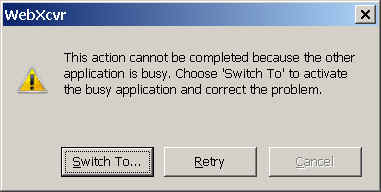 XYplorer freezes for about 10-15 sec and then the .mp3 is opened in Aimp (or Winamp). I can not use XYplorer in any way for anything until the file is opened in Aimp. When I try in Windows Explorer everything works with no problems every time. This happens a few times a day, sometimes directly after computer starts and other days after several hours. I have disabled antivirus.
Thanks in advance...