---
Crashes XYplorer 20.90.0302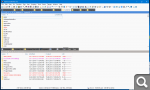 ---
Can you narrow that down to a certain file?
---
No, I just insert a template or script when setting up a soft-column.
The soft-column itself can be in an empty folder.
---
Cannot reproduce.

Does this also happen in a fresh installation?
---
---
---
Some problems in MY data, because everything is fine in the new installation.
---
Well, the app should NEVER crash, no matter what your data look like. So, can you reproduce the crash with your data? If yes, please let me see those problem data.
---
Thanks for your data, but I could not reproduce the crash.
---
Please excuse me.
The problem only occurs when using
Session Manager
---
Re-created the tab sets.
Updated Session Manager.
Saved the session.
Now XYplorer doesn't crash and works with Session Manager.
Sorry for the bad English.
---